The Ruff Revue is a troupe of dancing dogs and their handlers. We will perform at your community event, retirement center, school, medical facility, or talent show — bringing cheer and smiles to audiences of every age.
Northwest Profiles Video about Ruff Revue – Dancing Dogs
Our performances are fun, varied, and tailored to each holiday season. Ruff Revue programs last from 30 minutes to 1 hour. They include group dog dance routines, individual performances, and a variety of tricks that you can teach your dog!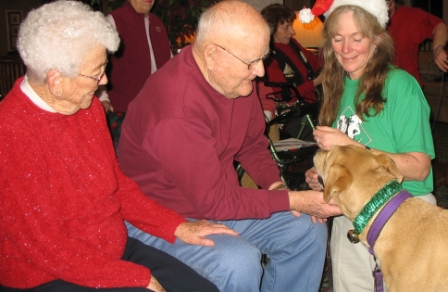 We know that one-on-one interaction with a dog is excellent therapy for humans, so our dogs offer a meet-and–greet session after each performance – which is a highlight with many in our audiences!
The Ruff Revue will dance on public stages, in large activity rooms, and in small common rooms. However, outdoor events with a lot of background noise often are too distracting for our dogs…