Dog dancing, known officially as Canine Musical Freestyle, is a choreographed musical program performed by people together with their dogs.
The objective of musical freestyle is to display the dog and handler in a creative dance. They use music and movement to showcase teamwork, artistry, costuming, athleticism, and style.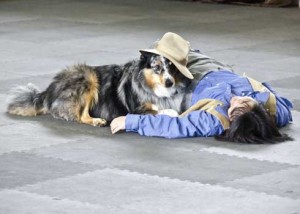 The routines are entertaining to watch, and fun for both dogs and handlers to perform!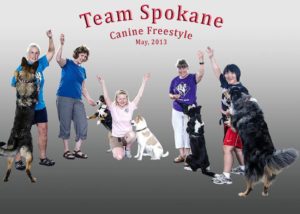 Click here to watch our Ruff Revue Group routine
Canine freestyle is a sport that truly demonstrates joy, teamwork, and bonding with your pet!
(Adapted from World Canine Freestyle Organization (WCFO))
WCFO offers members the opportunity to earn titles (Beginner through Advanced and beyond) in canine musical freestyle and heelwork to music.
All sizes, shapes, colors, ages, mixed breeds, and breeds of dogs and their humans participate and win titles in Canine Freestyle!
Here is a video of Teri Beeman and her Entlebucher Jazzy in National Competition 2013.