Alida and Dezzi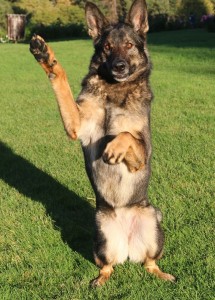 Dezzi is a Czech Shepherd – that is a German Shepherd that is from Czech Republic.  She is a Nationally Certified Search and Rescue Dog having passed her National Search Dog Alliance Human Remains Detection Training. She is training for her Air Sensor Certification.
We are members of the Intermountain Search Dogs and Priest Lake Search and Rescue.  Dezzi was deployed to Oso after the mud slides to help with the search for remains. Sometimes she helps find those with Alzheimers who have wandered away and also assists the Sheriff's department.  She has also flown in a helicopter!
She enjoys swimming and dock jumping when she is not working.  She loves to play ball especially soccer balls and carry things around in her mouth – like shoes sometimes.
She is enthusiastically learning Canine Freestyle. Her signature move is a wave!
In Canine Freestyle Alida and Dezzi have a Beginner Title in our Ruff Revue Group routine Competition to Uptown Girl.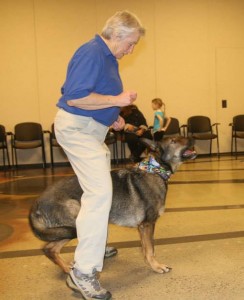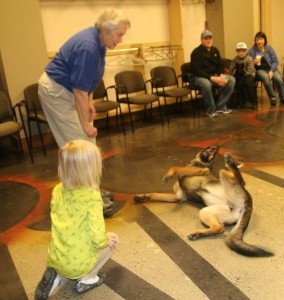 Through the legs and rollovers are always popular with the audience.
Dezzi is Alida's second Czech Shepherd. Sadie was her first dance dog and also did Search and Rescue and was Therapy Certified.