Karen A. and Newton
Ruff Revue changes over time. Karen has a new team member in 2017.  Newton is 3/4 Border Collie has 1/4 Aussie.  He came from a farm in Colville from working parents. He has the sweetest personality and loves human contact.  We are busy learning the basics, dipping our toes/nose in nosework, freestyle, and herding.  Enjoying hiking!  We will just see where the future takes us, a great companion is our main focus.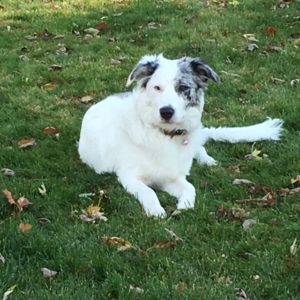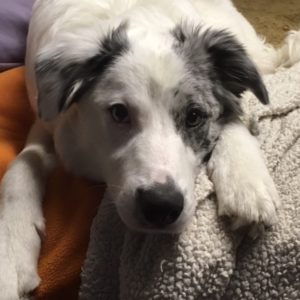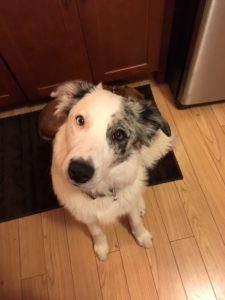 Karen A. and Aspen (Retired)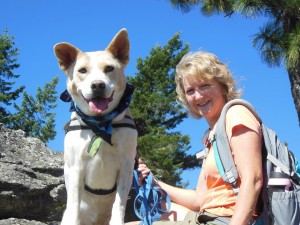 joined the Ruff Revue the summer of 2010. While volunteering at the local animal shelter, SCRAPS, Karen came upon a sick dog, with both ears folded over and those large amber eyes. She just couldn't pass her up. Aspen was approximately a year old, and after working together for a year and a half, Karen finally found their calling and joined the Ruff Revue.
Aspen is a joy to train! Her focus and attentiveness is due partly to her breed (Australian Cattle Dog mix) and also the connection that Karen and Aspen share. Aspen enjoys dancing but feels biggest role in life is being the "centurion" of the back porch watching for invading squirrels. Her signature is her straight-up jump from four paws flat on the ground, able to see over the six-foot wood fence. The higher you are the better you can see…
Aspen loves to catch the breeze on a walk, in a car, or riding in the family boat. Karen has enjoyed dogs her entire life and has been involved in conformation, obedience, and lure coursing, but finds that Freestyle and Rally are much more enjoyable and plans to compete in both in the near future.
Watch for their connection. One of Aspens' favorites, beside her love for jumping, is her chin rest. How can you resist those eyes?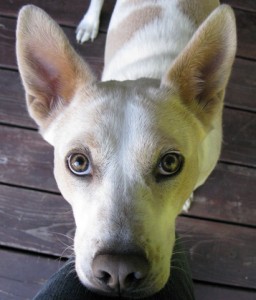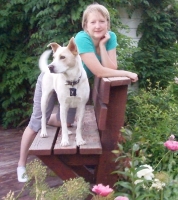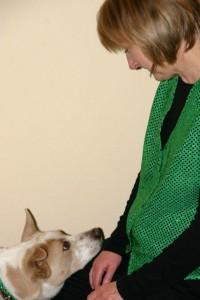 Karen knows that Aspen loves to hike so they are often on the trail and sometimes even with Ruff Revue buddies.
Ruff Revue dogs do live the good life!