Nancy and Schuyler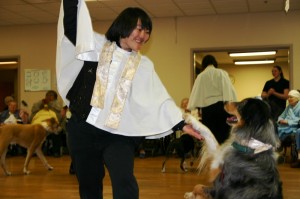 Schuyler (Sky) is a rescue dog. He and his litter mates were found abandoned by the roadside in Boise. He is Australian Shepherd at least, mostly.
Sky has been dancing since he was just a pup. He Has earned his Beginner Freestyle titles in the Pairs and Singles Divisions. His favorite moves, so far, are weaving and "Jazz Hands" and he has a very nice back around! Sky is a friendly boy who has earned his Canine Good Citizen certificate.
When he isn't dancing with Nancy, he loves going for walks and digging big holes and watching squirrels no matter what the weather brings.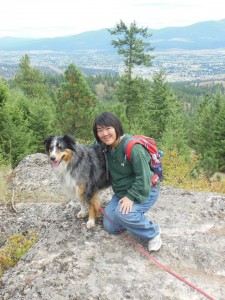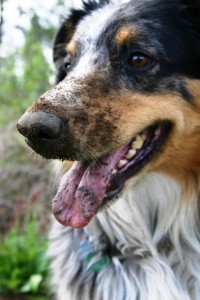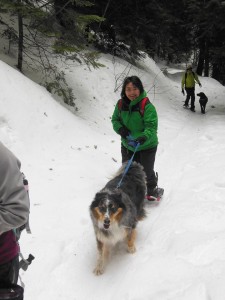 He is a little uneasy about things moving overhead, such as ceiling fans. Nancy is our Ruff Revue music expert, finding any and all flavors of music and editing songs to performance length. She also is the one who took most of the great photos on these pages.
Nancy is a member of HEART – Humane Evacuation Animal Rescue Team Spokane's local volunteer emergency animal rescue group.  She also volunteers for The American Humane Association Red Star Team.  She has been dispatched to help care for animals rescued from puppy mills, illegal dog-fighting rings, and natural disasters, such as the Moore, Oklahoma tornado.
Nancy's first dance dog was Dewey and he was her first love.  He will be remembered always.