Teri and Jazzy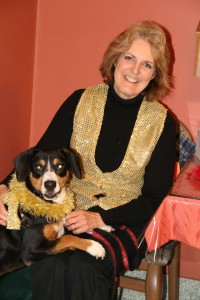 Jazzy is an Entlebucher – a mountain herding breed with a great work ethic. She is our youngest member and just getting started in Canine Freestyle but Teri already has a retired National Champion (Anna) so she is the experienced member of the pair.  Jazzy is full of youthful energy but is quickly learning the moves including walking with Teri – paws on Teri's feet! She already has her Novice Title in Rally Free – a new sport that is a more structured form of Canine Freestyle.
Teri along with Diane started Ruff Revue together to share their knowledge and encouragement with others that want to try Canine Freestyle and with audiences that love to watch the dogs perform.
Teri is a Training Instructor for Diamonds in the Ruff and it is great fun to watch her work with the dogs. She trains Canine Good Citizens and also teaches Performing Arts.  Most of our Ruff Revue dancers have taken her classes. Dogs absolutely love her
Jazzy has discovered water and likes it!  She loves to go for walks and play with her friends.
Teri and Anna (her retired Entlebucher) have performed in National Competition and hold a Champion Freestyle Title.  She also has a Master Title in Canine Heelwork to Music.  She has also participated in Agility and Rally-O. A "senior citizen" now, she has competed in the "Sassy Senior" division.
Teri also has Lexie, a rescued Rat Terrier.  Lexie has won her Beginner title in Canine Freestyle and her Canine Good Citizen Certificate. When she is not learning dance moves she likes to keep a watchful eye on the cat, play ball and rip up squeaky toys.