This page is dedicated to our dogs who have retired from performing with the Ruff Revue, or who have transitioned from this life.
"You have been an inspiration to us all, and the love that we share with you is not limited by the confines of this world"
——————————-
Pachelbel's Christmas Canon is a favorite of Ruff Revue dogs and their audiences. In 2011, four of our senior dogs came out of retirement to dance. The Heart they all put into the performances was an amazing demonstration of their Love for Dancing and their Humans!
Click here to view A Christmas Canon
——————————–
Following are individual tributes to our dogs who have retired from dancing or who have crossed the Rainbow Bridge ahead of us. We miss you All so much!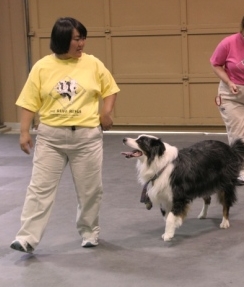 Dewey. With Nancy, Dewey was one of the founding members of the Ruff Revue! He was a real character – we miss him!
---
Anna.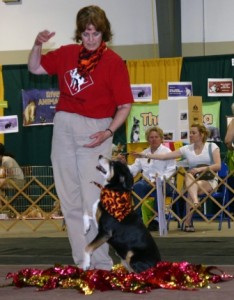 She was also one of the founding members of the Ruff Revue. Recently Anna retired from dancing after winning her championship in Canine Musical Freestyle! We always love to watch Anna and Teri perform and wish Anna all the best for her golden years!
---
Sadie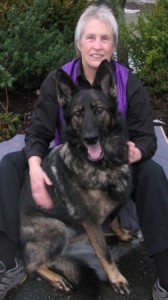 enjoyed an amazing and meaningful career as a Search and Rescue dog and was an energetic dancer! We miss you Girl!
---
Mina.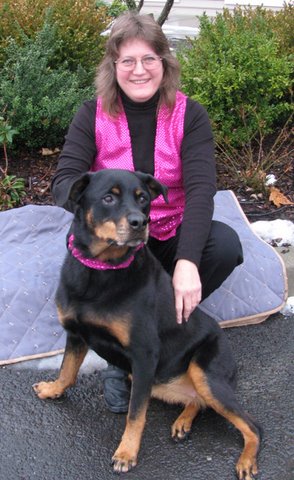 Best friend of Pam.
Mina – called Wilhemina when mischievous  – loved to dance and perform patriotic songs to honor the troops serving our country.
What a loving, friendly Rottie! We miss her.
---
Raven – beloved of Karen H and a calm, gentle soul amidst the group…
---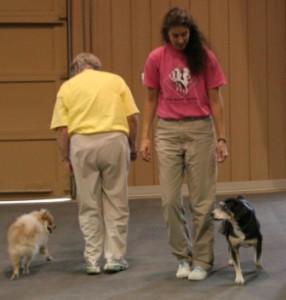 Baka (left, with Nancy R) and
Gretchen (right, with Kati)
---